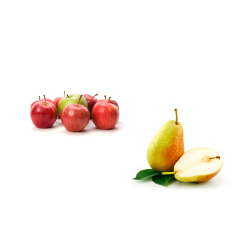 Association of Polish Fruit Growers
The Association of Polish Fruit Growers is an apolitical group whose aim is to help and act in the name of Polish fruit growers. At the beginning
the association functioned only in Mazovia voivodeship because it was founded in May 1999 by fruit growers from Grójec region – the biggest fruit farming region in Poland often referred to as "The Biggest Orchard in Europe".  The Board of the association performs executive and governing functions and consists of 40 Chairmen who are heads of branches located in 6 regions: Warmian-Masurian, Kuyavian-Pomeranian, Masovian, Świętokrzyskie, Łódź and Lublin Voivodeships.
The Association's priority is to create advantageous market and legal conditions for fruit farming industry, to shape opinions and assessments about fruit and fruit growing, to provide consultancy services which improve fruit growing and market behaviour skills of farmers, to represent business needs and professional interests of fruit growers, production groups and production organizations, to support cooperative movements and the rules of production safe for the consumer.
The Association of Polish Fruit Growers undertakes many actions which promote healthy nutrition by encouraging to eating bigger amounts of fruit and vegetables.
For example:
Auntie Apple Tree – The television campaign titled Auntie Apple Tree and Uncle Celery from the Land of Vitamin was an important initiative promoting the healthy nutrition. This action was designed for pupils of primary schools (first, second and third year pupils) where we already run another program titled Fruit at School. This programme in an interesting and funny way shows children how important for the health of every individual are the elements contained in fruit and vegetables.
An apple a day – the main aim of this campaign was to create and strengthen a positive image of European apples in Russia and Ukraine and to increase the demand for European apples at the same time boosting their sales in these countries.
Eat vitamins to get healthy again – The target group of this programme are children currently staying at children's wards in hospitals. Its functioning involves providing the hospitals with free fruit and vegetables as well as advertising and educational materials. The action is accompanied by press conferences and advice from dietitians.
Unusual properties of usual fruit – the main aim of this campaign is to increase the consumption of berries on target markets – Poland, Czech Republic, Austria, Sweden, Finland – and the export of these fruit, also in processed form.
More on the website : https://www.polskiesadownictwo.pl/
---